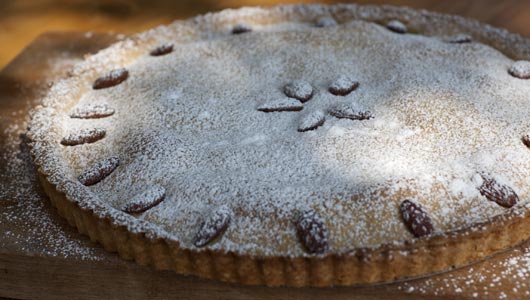 Custard Pie with Pine Nuts & Almonds
In this traditional Tuscan dessert the combination of rich pastry, delicate custard and toasted nuts makes for a special treat indeed. During our cooking courses in Tuscany, we teach you how to make the pastry to perfection. It needs some care and practise, but is well worth it! Torta della Nonna translates as the "Grandmother's cake".
Ingredients
For the pastry
500 g (4 cups) plain (all-purpose) flour
250 g (1 cup) butter
200 g (4/5 cup) sugar
5 egg yolks
Zest of 1 untreated lemon
A handful of raw almonds to decorate (50g or 2 oz)
For the custard filling
125 g (2/3 cup) sugar
500 ml (1 pint) milk
2 egg yolks, 2 whole eggs
2 tablespoons corn starch
1 fresh vanilla pod
150 g (5 oz) lightly toasted pine nuts
Instructions
For the custard
Split open the vanilla pod and place in a saucepan with the milk. Bring to the boil gently.
In a large bowl, vigorously beat the egg yolks with the sugar until the result is light in colour and frothy.
Add the flour and beat well.
Add the milk gradually (remove the vanilla pod, scraping out the seeds into the milk), beating constantly with a whisk.
Slowly reheat, stirring constantly, always in the same direction, until quite thick. It will thicken even more once it cools. Allow to cool with clingfilm (saran wrap) touching it so that a skin does not form.
Add the toasted pine nuts to the cooled custard.
For the base
Line a large (30 cm, 12 in) ovenproof tart dish with baking paper.
On a wooden work surface, mix together the flour, sugar and butter, cut into little pieces. Rub the butter into the flour and sugar, until it is completely worked in. Work lightly so that the butter does not melt.
Make a mound out of this mixture and make a well in the centre. Add the eggs and lemon zest (careful not to grate the bitter pith in too!)
Work the ingredients together, first with a fork, then with your hands, until you have a smooth, soft pastry dough.
Wrap the pastry dough in clingfilm and refrigerate it for at least 30 minutes (ideally 2 hours, especially in warm weather).
To assemble
Preheat the oven to 160°C/320°F
When the pastry has rested in the refrigerator, divide in two, and delicately roll out one half to the size of the tart dish (approx 1 cm/half inch thickness).
Pour on the custard. Roll out the remaining pastry dough and place on top of the custard, closing the pie. Decorate with the almonds. Try not to handle the pastry too much at this stage.
Bake at 170°C/340°F for 40 minutes, until the pastry is golden and the almonds toasted.
Leave to cool and dust with icing sugar.
https://organictuscany.org/recipes/wp-content/uploads/torta-della-nonna.jpg
300
530
Riccardo
https://organictuscany.org/wp-content/uploads/2015/01/organictuscanylogo3-300x200.png
Riccardo
2010-04-05 21:11:59
2019-10-02 12:06:05
Custard Pie with Pine Nuts & Almonds