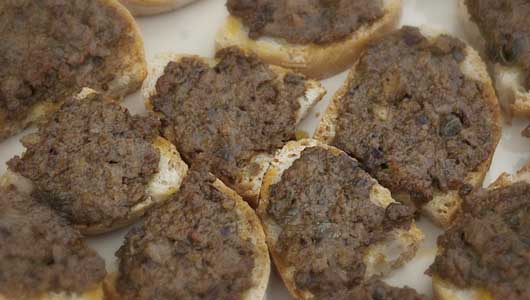 Tuscan Chicken Liver Paté
Tuscan Chicken Liver Paté
This is the most classic of all Tuscan crostini. Even those who say they don't like paté love this one!

Ingredients
200 g (2/5 lb) chicken livers and hearts (the hearts are optional)
2 small onions
30 g (1/8 cup) butter
2 tsp capers, soaked, drained and chopped
1 medium pork sausage (optional)
1 bay leaf
5 or 6 sage leaves
1 glass dry vin santo (or sherry)
1 anchovy or a little anchovy paste (optional)
Instructions
Chop the onion finely and sauté in the butter with the bay leaf and sage until soft.
Clean the chicken livers and hearts of fat and gristle. Add add to the pan, along with the sausage meat, if you are using it, broken up into small pieces. Add pepper (careful to salt only at the end - the capers/anchovies are salty!)
Cook for a further 5 minutes, until browned. Add the vin santo and evaporate off.
Cook for a further 3-4 minutes, gradually adding a little vegetable stock to keep it moist.
Put on a board and chop finely with the capers (with a mezza luna if possible)
Return to the pan, adding anchovy paste if using.
Cut thin slices of firm bread (Tuscan-style bread is best but baguette will do) and top with the paté.
This paté improves if you make it in advance (say, 24 hours) and reheat it using a little butter or stock.
https://organictuscany.org/recipes/wp-content/uploads/crostini_toscani.jpg
300
530
Riccardo
https://organictuscany.org/wp-content/uploads/2015/01/organictuscanylogo3-300x200.png
Riccardo
2010-02-28 18:46:40
2016-07-16 11:59:52
Tuscan Chicken Liver Paté