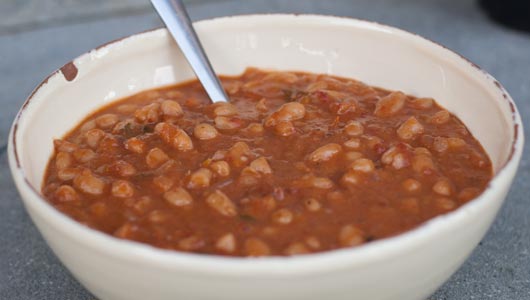 White beans cooked in rosemary, tomatoand balsamic vinegar
Creamy white beans in a tangy, herby tomato sauce - this is a Greek-style interpretation of the Tuscan fagioli all'uccelletto. These beans are great served hot or cold, either as an antipasto or as a side dish.

Ingredients
500g dried cannellini or butter beans, soaked in plenty of cold water overnight
Half litre (1 pint) good crushed tomato
20 sage leaves
3 cloves garlic
2 medium onions
1 chili pepper
1 tablespoon balsamic vinegar
olive oil
Instructions
Rinse the soaked beans well.
Cook in plenty of water, with half the sage leaves and the cloves of garlic, left whole, until just cooked through.
This will take 20 minutes in a pressure cooker or 2 hours in a pot (bring to the boil, then simmer gently with the lid of the pot partially on).
While the beans are cooking, chop the onion finely.
In another pot, add the onions, rest of the sage leaves and chilli pepper to a generous swirl of olive oil. Cook on a low flame for 10 minutes, until the onions are soft but nor browned.
Add the tomato and the balsamic vinegar and reduce for a further 10-15 minutes, until you have a syrupy consistency. Switch off the heat.
When the beans are cooked, add them to the tomato reduction, with just enough water to cover.
Cook on a low flame for a further 30-40 minutes, adding a little bean water now and again so that the dish does not dry up (keep just covered).
Some of the beans will disintegrate and form a creamy sauce.
Serve with a good swirl of raw extra virgin olive oil on top.
https://organictuscany.org/recipes/wp-content/uploads/beans_in_rosemary1.jpg
300
530
Riccardo
https://organictuscany.org/wp-content/uploads/2015/01/organictuscanylogo3-300x200.png
Riccardo
2010-03-28 22:15:11
2017-06-16 10:18:21
White beans cooked in rosemary, tomato and balsamic vinegar