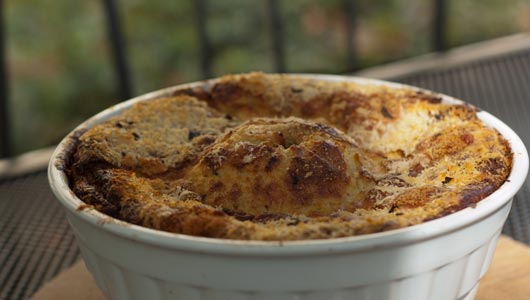 Sformato ~ Soufflé-like Vegetable Flans
Print
Sformato ~ Soufflé-like Vegetable Flans
Italian soufflés are more rustic and forgiving than their French cousins. They do not have to be eaten when just risen.In fact they are easier to cut and serve when they have cooled down a little. They are even delicious eaten cold. When we make them on our cooking courses in Italy, our guests are always delighted.
Prep Time:

0 hours

Cook Time:

0 hours

Total Time:

40 minutes

Yield:

8
For 8 people as a starter or 4 people as a one-course meal
4

eggs
EITHER

3

small bunches of asparagus OR a small cauliflower OR equivalent quantity of a vegetable which can have much of its water removed by stir-frying, e.g. spinach.

500

ml/1 pint milk
Nutmeg

1

–

2

tablespoons (

1

–

2

oz) of flour
Two knobs of butter and a swish of oil
Breadcrumbs
A cup of freshly grated Parmesan cheese
Instructions
Preheat the oven to 180°C/360°F
Steam the vegetables or sauté them so that they lose as much water as possible.
If the vegetables are steamed, sauté them in a little butter so that they lose even more water.
Purée the vegetables and leave them to cool.
Make a béchamel:
Melt one knob of butter in a saucepan and add the swish of oil and the flour, mixing well with a whisk to remove any lumps.
Add the milk little by little, whisking well, on a low heat. Grate a quarter of a nutmeg into the mixture.
Continue until the mixture begins to thicken but is still quite liquid.
Separate the eggs and reserve the whites.
When the béchamel has cooled, add the puréed vegetables and the egg yolks.
Butter a high-sided ovenproof dish and coat the butter with breadcrumbs.
Beat the egg whites to stiff peaks.
Carefully fold in the egg whites to the vegetable-béchamel mixture.
Sprinkle the cheese on top.
Transfer the mixture carefully to the ovenproof dish and bake for 20 minutes or until the cheese is browned and a skewer inserted into the centre of the sformato comes out clean.
https://organictuscany.org/recipes/wp-content/uploads/vegetable-flans.jpg
300
530
Riccardo
https://organictuscany.org/wp-content/uploads/2015/01/organictuscanylogo3-300x200.png
Riccardo
2010-11-01 21:02:34
2022-04-23 12:06:28
Sformato ~ Soufflé-like Vegetable Flans