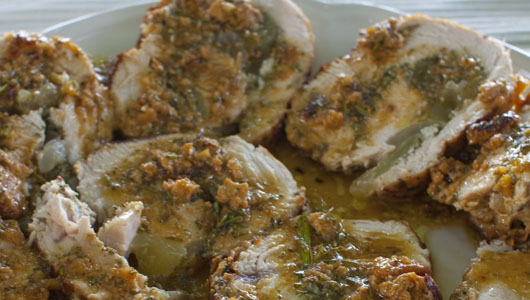 Herby turkey breast cooked in milk
Herby turkey breast cooked in milk
This is our family dish which has been passed down through the generations and adapted a little. A butterflied turkey breast is stuffed with herbs and grapes, rolled up and tied and cooked in milk.
Ingredients
1 medium turkey breast (calculate around 120g - 1/4 lb per person)
4 cloves garlic
3 large sprigs rosemary
25 sage leaves
1 cup white wine
1/2 litre (1 pint vegetable stock - see separate recipe)
3 cups of milk
10-15 large grapes, peeled and deseeded (use small pieces of apple if grapes are not in season)
olive oil
a little flour for dredging
salt, pepper
Instructions
Chop the sage and 2 of the garlic cloves very finely. Season with salt and pepper and set aside.
Open out the turkey breast and pound (not too violently), so that you have a flat surface.
Spread the inside with the sage and garlic, add the grapes/apple and roll closed.
Tie the roll closed with kitchen string, sealing well.
Heat the oil in a pan
Roll the turkey very lightly in flour and place in the pan.
Brown on all sides for 10 -15 minutes, starting with cold oil and keeping on a low flame. Careful that you don't get spattered by the grapes letting out their liquid hot oil!
If you do burn the oil (this should be prevented by keeping the temperature low), discard the burnt oil carefully and return the turkey to the pan with a swirl of new oil.
Add a cup of white wine.
When the wine has evaporated, add the warm stock and cook on a medium flame for 30-40 minutes, turning every 10 minutes until evaporated off.
Add the milk, salt and pepper and cook on a low flame for a further 25-30 minutes, until a thick sauce has formed. Be careful not to burn the milk.
Add the rosemary and 2 garlic cloves (finely chopped) and cook for a further 2 minutes.
Allow to cool a little, cut into slices and serve with the sauce on the slices.
https://organictuscany.org/recipes/wp-content/uploads/turkey.jpg
300
530
Riccardo
https://organictuscany.org/wp-content/uploads/2015/01/organictuscanylogo3-300x200.png
Riccardo
2010-02-09 23:12:13
2019-11-08 13:53:37
Herby turkey breast cooked in milk