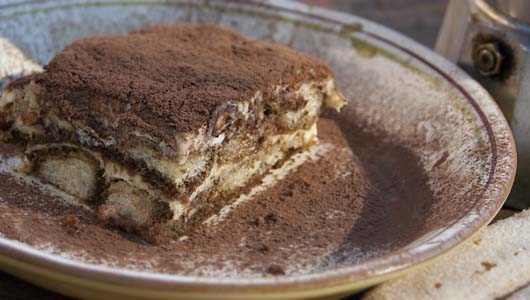 Print
Tiramisù
Tiramisu (literally "Pick me up") seems to have been around for generations, but is in fact a creation from the 1970s! The version that we teach at our cooking school in Tuscany uses custard. At home in Italy, people will often use raw eggs, beating the yolks with the sugar and mascarpone, then folding the whites in very gently.
Prep Time: 30 minutes
Total Time: 30 minutes
Yield: 12
Savoiardi (Ladyfinger) biscuits, around 300-400g (10-13 oz), depending on the size of your dish
12 espresso cups of espresso coffee, cooled
A good splash (100 ml, 3 oz) of marsala wine or sweet dessert wine/liqueur
125 g (5/8 cup) sugar
500 ml (1 pint) of milk
3 large or 4 medium egg yolks
2 two heaped dessert spoonfuls of cornstarch (about 30 g.)
1 fresh vanilla pod
250 g (half lb) mascarpone cheese
Good quality bitter cocoa powder to decorate
Instructions
Make the coffee and allow to cool in a bowl. Add the liqueur.
Split open the vanilla pod and place in a saucepan with the milk. Bring to
the boil slowly.
In a large bowl, vigorously beat the egg yolks with the sugar until the result is light in colour and frothy.
Add the flour and beat well.
Remove the vanilla pod from the milk, after scraping the seeds into it.
Add the milk to the bowl gradually, beating constantly with a whisk.
Slowly reheat, stirring continuously in the same direction, until quite thick. It will thicken even more once it cools. Allow to cool, with clingfilm (saran wrap) touching it so that a skin does not form.
Add the mascarpone cheese to the custard mix.
In your serving dish, spread out a little custard, then cover with the ladyfinger biscuits, first dipping them lightly (get them nice and wet but don't get them soggy!) in the coffee and liqueur mix.
Carefully spread half the rest of the custard mixture on top, and add an- other layer of biscuits dipped in the coffee and liqueur mix.
Finish with the remaining custard and decorate with dusted cocoa power.
Leave to rest in the fridge for a couple of hours at least before serving.
https://organictuscany.org/recipes/wp-content/uploads/tiramisu.jpg
300
530
Riccardo
https://organictuscany.org/wp-content/uploads/2015/01/organictuscanylogo3-300x200.png
Riccardo
2010-04-05 20:29:20
2022-04-23 12:06:23
Tiramisù