Some visitors to Italy can't wait to go on a Vespa tour or to go to the Ferrari museum. But it's nice to slow down the pace and use your two feet to get from A to B, just as the locals used to do for so many centuries.
You may well have heard of (or even walked) the Camino de Santiago (the Way of St James), the various Pilgrims' Routes which lead to the shrine of St James in Santiago de Compostela in Galicia, Northwest Spain. This was just one of many pilgrimage routes in the Middle Ages. The the two other principal ones went to Jerusalem and to Rome.The pilgrimage route to Rome was and is known as the "Via Francigena". Despite its name "The road that comes from France", it is generally thought to originate in the English Cathedral city of Canterbury. Pilgrims took the journey to visit the Holy See and the tombs of the Apostles Peter and Paul in Rome.
In around 990 AD, Archbishop Sigeric journeyed from Canterbury to Rome to be invested by the Pope. He then returned and documented this return journey. Sigeric's return journey consisted of 80 stages averaging about 20 km (12 miles) a day, for a total of some 1,700 km (1,100 miles).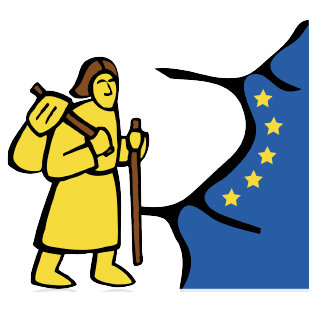 The way that the journey is documented leads us to believe that it was a route that had already been in use for many years.
The Via Francigena was never a single, "Roman" road. There were always several possible routes that changed over the centuries as trade changed and Saints' shrines became more or less fashionable among the  pilgrims. The Via Francigena did not connect cities as such, but relied more on abbeys as places where pilgrims could stop to sleep and eat. Tiny places such as San Gimignano became wealthy and important due to so many travellers passing through.
2016 has been named as the "Year of walking routes" by the Italian Ministry of Culture and Tourism and much of the Tuscan portion of the Via Francigena (380km) has been given a facelift, with new signposts, places to stay and a coodinating website: http://www.viefrancigene.org/en/. It is hoped that the initiative will promote a more sustainable form of tourism.
If you have time and enjoy walking, completing a part of the Via Francigena will give you a different taste of visiting Italy. It will make you slow down and appreciate how travellers used to enjoy seeing a country in the past.