Although some people may be squeamish about calamari (squid), you should really give them a chance. They are really tasty, sustainable and versatile.

Ingredients
8 small or 4 medium calamari (around half a kilo, 1 lb)
Extra virgin olive oil
Dry white wine, 1 small glass
1 cup chopped parsley
4 level tablespoons breadcrumbs
8-10 olives, pitted and chopped
Salt, powdered chilli pepper
2 cloves garlic, minced
2 tsp tomato concentrate, dissolved in a cup of hot water
Instructions
If you have not bought your calamari ready cleaned, clean them by slipping out the tentacle part, removing the transparent "spine" of the calamar, slipping the skin off and washing the inside. Clean the tentacle part by removing and discarding the eyes, tooth and innards. Strip the fins off the squid. Chop the fins and tentacles finely.
Stif-fry the chopped fins and tentacles in a tablespoon of olive oil. When they are browned (1 minute) add the minced garlic, stir well for a couple of seconds and then add a quarter of the white wine and evaporate off. Leave to cool.
In a bowl, mix together the chopped parsely, breadcrumbs, and chopped olives. Season with salt and a pinch of chilli pepper. Stuff the squid with this mixture.
Close the squid with a toothpick.
In a frying pan, heat a teaspoonsul of olive oil and brown the calamari on both sides (2-3 minutes). Cover since there may be some spitting of oil.
Add the rest of the white wine and evaporate off.
Add the tomato concentrate dissolved in water. Cook covered on a low heat for 3-5 minutes.
1

1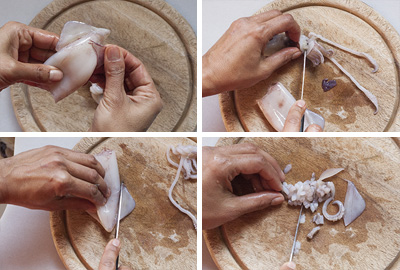 2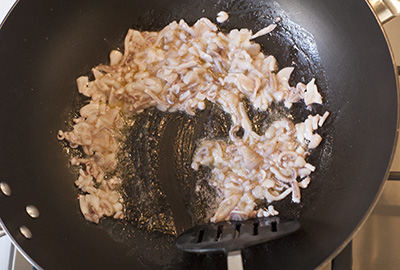 3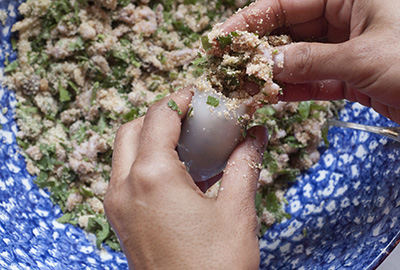 4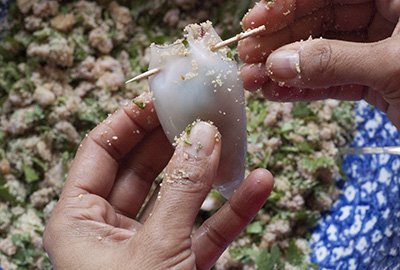 5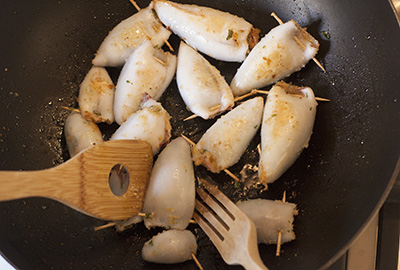 6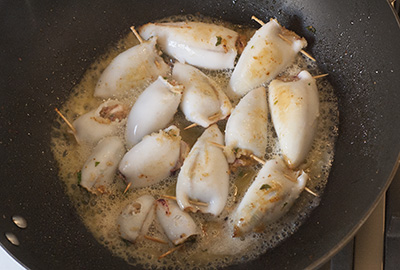 7