This filled pasta is hearty fare from the mountains. We first tried it in the Casentino mountains, just across the Appenines from the home of fresh pasta: Emilia Romagna. The sage and butter sauce is delicate enough to let the subtle flavours shine.

Ingredients
For the pasta:
200g durum wheat flour or all-purpose flour
2 eggs
pinch of salt
For the filling:
50g ricotta cheese
20g parmesan cheese, grated
1 small potato
1 piece of squash (butternut or similar), same size as the potato
salt, pepper, nutmeg
To serve (as a sauce):
50g of butter which has been heated on a low heat with 6-8 sage leaves, to infuse.
Parmesan cheese, grated
Instructions
First, make the filling: steam the potato and squash. In a large bowl, mash with a fork (or put through a potato ricer) and leave to cool.
Add the ricotta cheese, salt, pepper, a good grating of nutmeg and parmesan cheese. Mix well.
Then make the pasta: Make a mound with the flour and make a large well in it (big enough for the eggs). Break the eggs into this well. Add a pinch of salt.
Work the eggs and the flour together with a fork, adding the flour from just around the eggs little by little, until you have a smooth dough, adding just a drop of water if necessary, and no more. You can add a small amount of flour if the mixture is too sticky. As soon as you can (when the mixture is no longer sticky), use your hands.
Knead the dough for ten to fifteen minutes, until it is smooth, firm, and quite elastic. Don't skimp on the kneading or the dough will tear while you're rolling it out. Leave to rest for 30 minutes, with a bowl covering it.
Divide the dough into two balls. With a rolling pin, roll the balls of dough out into sheets. Make them as thin as you possibly can!
Lastly, assemble: place dots of filling (of around half a teaspoonful) on one of the pasta sheets. You should have space for around 25 ravioli (5 by 5).
Place the other sheet on top, press the edge lines down.
Cut the ravioli out with a ravioli cutter wheel or a knife.
Press the edges of each one together to seal well.
Cook in plenty of salted boiling water for around 5-8 minutes (the time depends on how thin you have managed to roll the pasta). Taste corners of the ravioli to decide when to drain them. Toss in the sage butter, grate pepper on the pasta and sprinkle generously with grated parmesan cheese.
1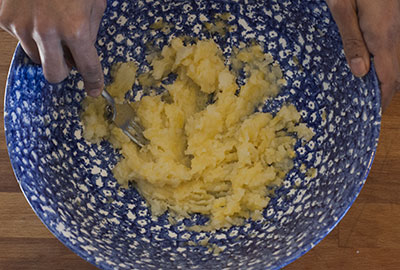 2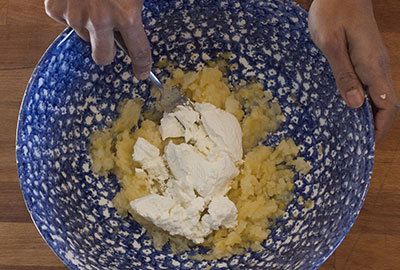 6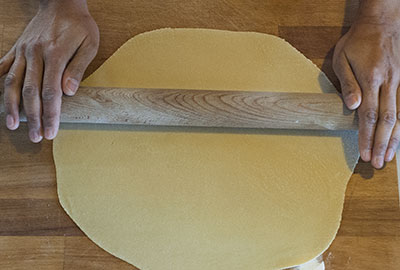 7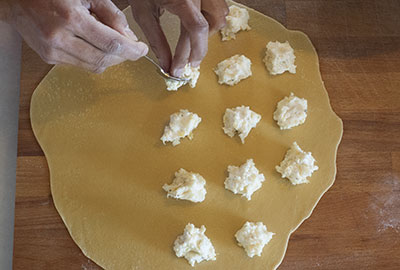 9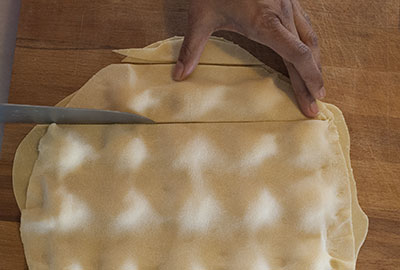 10