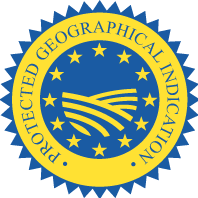 Protected geographical indication (PGI – IGP in Italian) is one of three European Union schemes of geographical indications and traditional specialities. These schemes were set up to promote and protect the names of quality agricultural products and foods.
This regulation is strictly enforced within the EU and is being gradually introduced internationally via bilateral agreements between the EU and non-EU countries. Its aim is to ensure that only products genuinely originating in that region are allowed to be identified as such.
The purpose of the law is to protect the reputation of particular regional foods, to promote rural and agricultural activity, to help producers obtain a premium price for their authentic products, and to eliminate unfair competition and misleading of consumers caused by the existence of non-genuine products which may be of inferior quality and/or of different flavour.
This system is similar to appellation systems used throughout the world, such as the appellation d'origine contrôlée (AOC) used in France, the denominazione di origine controllata (DOC) used in Italy.
In January 2016, the delicious straight almond biscuits known as Cantucci (or Cantuccini) Toscani earned their place on the IGP list.
We think that our recipe for Cantuccini is one of the best that we've tasted. Many of our guests have made them as soon as they have returned home, with great success!

These are the classic "biscotti" as they are often known in the US (in Italian, this just means any "cookies"). Using the finest flour available (Italian "00" is the best) results in the most mouthwatering morsels. Guests that come to our cooking classes in Italy tell us that when they get home, these are the first thing that they make. And that they really impress their friends!

Ingredients
500 g (4 cups) plain (all-purpose) flour
400 g (2 cups) sugar
250 g (1/2 lb) almonds, toasted (with their skins if possible)
3 eggs
3 egg yolks
50 g (1/4 cup) melted butter
1 heaped tablespoon Natural baking powder, enough for 500g (4 cups) flour
1 shot glass vin santo (or similar sweet wine)
pinch of salt
good pinch of aniseed, toasted in the almond pan with the heat off.
To glaze: half an egg white, pinch of aniseed.
Instructions
Preheat your oven to 170°C/340°F
Mix the flower with the baking powder.
In a bowl mix 3 eggs, 3 yolks, the sugar, the melted butter, a pinch of toasted aniseed and the sweet wine.
With the flour, make a well on your work surface.
Carefully pour the mix from the bowl into the well.
Working with a fork or a spatula, amalgamate all the ingredients.
When well mixed, add the toasted, cooled almonds to the mixture.
With a large metal spoon or a metal spatula, spoon or cut strips (approx 2 inches by 8 inches/4 cm by 15 cm) onto a floured surface. Roll in the flour, shake off excess and place on a baking sheet covered in baking paper. Form into loaves gently and allow space between the loaves for them to rise.
Bake in an oven on 170°C/340°F for approximately 30 minutes or until golden.
Take out of the oven, cool a little and cut the strips diagonally into biscuits approximately 1 cm (half inch) thick, and brush with the glaze.
Return to the oven and bake for a further 10-15 minutes until golden and glazed.