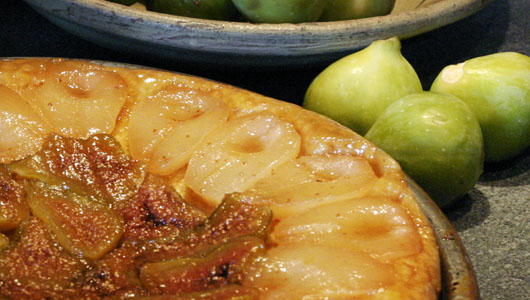 Pear and Fig Tart
You can make this tart with pretty much any fruit, but the combination of figs and pears is divine! During our cooking classes in Tuscany, we use ripe figs from the trees at the top of the hill.
Ingredients
For the rich shortcrust
500g (4 cups) plain (all-purpose) flour
300g (1 1/3 cups) butter
200g (1 cup) sugar
2 egg yolks, 2 whole eggs
Zest of 1 untreated lemon
For the topping
10 small ripe pears
16 fresh ripe figs
50 g (1/4 cup) butter
100 g (1/2 cup) sugar
Instructions
For the shortcrust dough
Line an ovenproof tart dish with baking paper.
On a wooden work surface, mix together the flour, sugar and butter, cut into little pieces. Rub the butter into the flour and sugar, until it is completely worked in. Work lightly so that the butter does not melt.
Make a mound out of this mixture and make a well in the centre. Add the eggs and lemon zest (careful not to grate the bitter pith in too!)
Work the ingredients together, first with a fork, then with your hands, until you have a smooth, soft pastry dough.
Wrap the pastry dough in clingfilm and refrigerate it for at least 30 minutes (ideally 2 hours, especially in warm weather).
For the tart
Peel, core and halve the pears. Halve the figs.
In 50 g of butter and 100 g of sugar, caramelise the fruit, covering the pan for the first 10 minutes so that the fruit releases its liquid. Then continue to cook without the lid for a further minutes, until the fruit is covered with a thick syrup.
Arrange the syrupy fruit in the tart dish in a circular pattern, remembering to put the side that will be visible face down.
Roll out the pastry dough carefully and place over the fruit, pressing the edges of the dough into the sides of the dish. You should try and achieve a 1 cm (half-inch) thickness. If you have pastry left over, use to make delicious cookies!
Cook in an oven preheated to 180°C/350°F for 35 minutes, or until the pastry is golden brown.
Turn upside down carefully onto a plate.
Serve with whipped cream or custard (see the tiramisù recipe), or even whipped cream folded into custard...
https://organictuscany.org/recipes/wp-content/uploads/fig_tart.jpg
300
530
Riccardo
https://organictuscany.org/wp-content/uploads/2015/01/organictuscanylogo3-300x200.png
Riccardo
2010-03-04 20:05:56
2019-10-02 12:13:57
Pear and Fig Tart