Taralli are a delicious little ring-shaped cracker-type snack, like a crispy micro-bagel. Also like a bagel, they are boiled, then baked. They are made in many different southern regions of Italy, mainly Puglia (the heel), Campania (where Naples is, the front side of the ankle) Calabria (the toe) and Basilicata (the middle part of the foot). There are many different versions, plain and with different flavourings (garlic, chilli pepper, tomato and parmesan). There are also sweet taralli. Both are often dunked in wine. They were Monday's dish on the Italian Food Calendar. So a few days' late (this is slow food after all) here is our version, a Pugliese version with fennel seeds.

Ingredients
250g 00 (or all-purpose) flour
15 g fennel seeds, toasted
3/4 tsp fine sea salt for the dough and 2 tsp more to salt the water
80 ml white wine
60 ml (1/4 cup) extra virgin olive oil
Instructions
Lightly toast the fennel seeds. Leave to cool.
Sift the flour into a large bowl.
Add the fennel seeds and 3/4 tsp salt. Then pour in the wine and the oil and mix well and knead by hand until you form a smooth and homogeneous dough. Make a ball out of the dough.
Wrap it in plastic wrap and let it rest in a cool place for an hour. After the resting time, fill a large saucepan with salted water. While the water comes to the boil, rolling dough between your palms, make small sausage shapes, around 1 cm in diameter and 7 cm in length.
Make the characteristic shape of the tarallo by shaping rings with overlapping ends (like an alpha: α).
Place the taralli, around 8 at a time, in the boiling water and take them out with a slotted spoon or sieve as soon as they surface.
Immediately place them on a tea towel to drain a little.
While you boil the batches of taralli, preheat your oven to 200° C (390° F). Once all the taralli have been boiled, put them on a baking tray covered with baking paper and bake for 30 minutes.
After this time they should be golden and dry inside. Allow them to cool.
1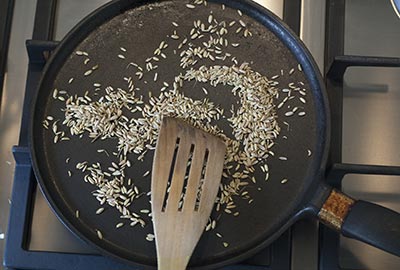 2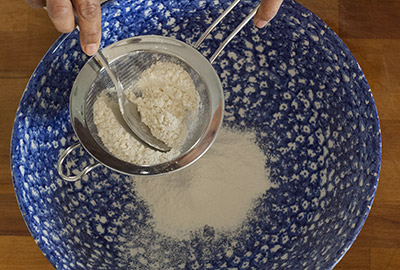 3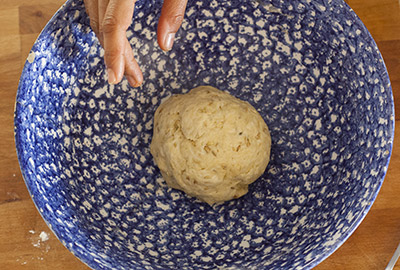 4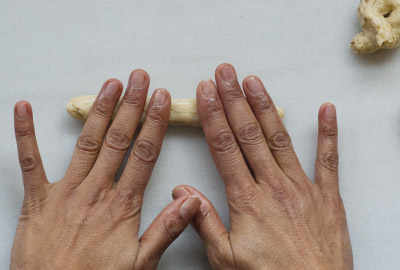 5

6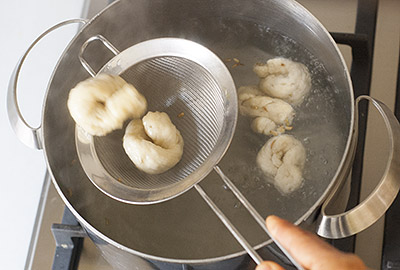 7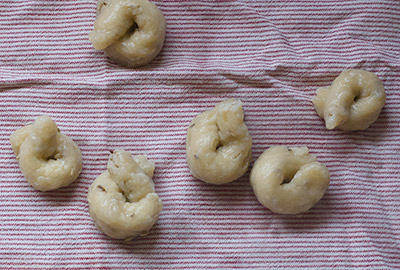 8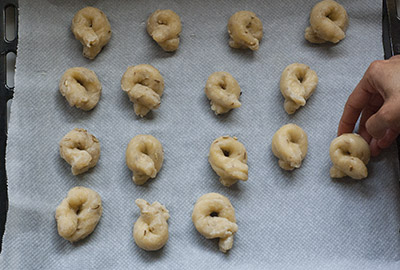 10